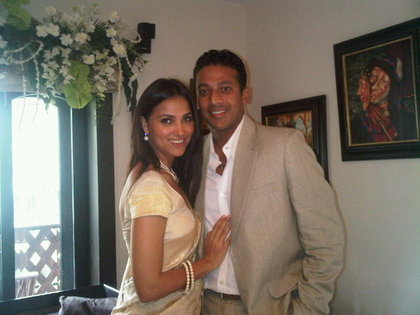 Bollywood Garam: Bollywood actress Lara Dutta is officially married to Indian tennis star Mahesh Buhpathi. The couple got married at Mahesh's residence in Bandra on 16th February where only the couple's family were present. This is the first marriage for the former Miss Universe, and the second marriage for Mahesh Bhupathi.
The couple decided to go public about their relationship only once Mahesh's divorce to Swetha Jaishankar was finalzed last year. Despite Jaishankar alleging that Dutta "stole her husband", Lara insists that she started dating Mahesh only after he filed for divorce from his first wife. Nevertheless, Dutta has nothing to worry about as she has become the wife of the top Indian tennis star.
After the civil ceremony on Wednesday, the couple will have their "sangeet" ceremony on 18th February, followed by a church wedding in Goa on the 19th of February.
One wonders what made Lara Dutta get married to a man she hardly knew for even a year, but didn't walk down the aisle even though she was in a live-in relationship with Kelly Dorji for more than 7 years, and later even dated Dino Morea! Maybe love is really blind, and it takes you just that one person to remind you what love is really about (sounds too filmy right?).
Fans hope that the "No Entry" actress will enjoy wedding bliss with her new husband Mahesh Bhupathi.