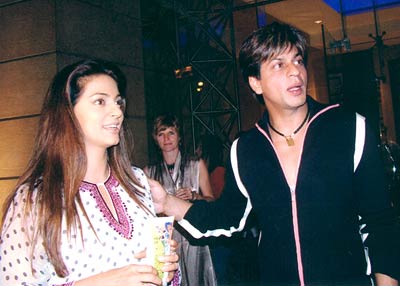 Popular onscreen couple Juhi Chawla and Shahrukh Khan, who have many times ventured in films together, will soon be appearing in a TV commercial together. The ad is a sequel to the last edition of the Matrix Forex TV commercial, which is scripted and directed by Kabir Sadanand.
The commercial will show a scene of a courtroom in which Juhi is the judge and Shahrukh is the criminal. Shahrukh and Juhi last worked together in the movie 'Bhoothnath' and this will be their first commercial together.
Earleir Juhi and Shahrukh were business partners and owned Dreamz Unlimited. In the year 2004, Shahrukh took over the company and made it Red Chillies Entertainment.
At present Shahrukh Juhi and her husband Jai Mehta are co-owners of the Indian Premiere League (IPL) team Kolkata Knight Riders. The commercial will soon be aired in television and will also feature Brett Lee, Brendon McCullum and Yusuf Pathan. Juhi and Shahrukh have in the early years worked together in the movies like 'Yess Boss', 'Duplicate', 'Darr', 'Raju Ban Gaya Gentleman' and 'Phir Bhi Dil Hain Hindustani'. Shahrukh after forming a separate production house has released many successful movies including 'Main Hun Na' and 'Ra.One'.