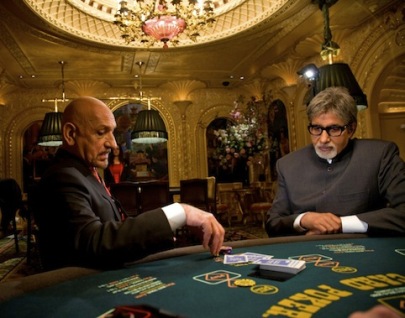 BollywoodGaram.com: Gambling has been one of the favorite subjects of film makers in Bollywood. When one thinks of such movies, one thing common in them would be the mind games accompanied by card games, betting and money-making casino games; played by the characters and how they influence the minds of the audience as part of its entertainment quotient. Incase you have missed some big Bollywood hits which had gambling as their central theme, here is a list of the top 5  gambling-themed movies in Bollywood.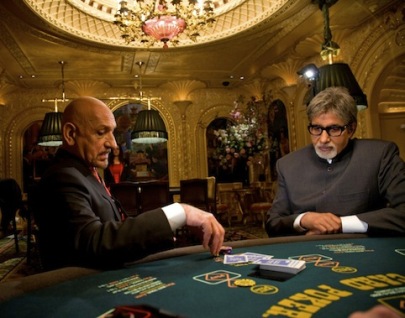 1. Teen Patti (2010) – Director Leena Yadav brought together an interesting cast of Amitabh Bachchan, Ben Kingsley, R Madhavan, Raima Sen and Shraddha Kapoor. The plot is based on a mathematics professor, played by Big B, who is trying to write a thesis on probability and then related it to the popular poker game of Teen Patti, which is played online. From an experiment, the game moves to casinos and private parties and brings out the dark side of the inventors.
2. Gambler  (1971) – The movie is graced by the veteran actor Dev Anand, Shatrughan Sinha and Kishore Sahu and has been directed by Amarjeet. The story of the movie is about Raja, who has been abandoned by his biological mother and is then brought up with Master, who is a criminal Don and expects Raja to continue working with him. Raja learns how to play money-making card games and becomes a successful gambler, quits working with Master and before he knows it, he is charged with the murder of Master.
3. Jannat (2008) – The movie 'Jannat' is about a man who is just addicted to be in the world of crime and then struggles to find a better world. The movie has Emraan Hashmi, who believes in making quick money and learns card games only to become a bookie involved in match-fixing which ultimately leads to his end. The movie also has Sonal Chauhan and has been directed by Kunal Deshmukh.
4. Striker (2010) – Produced and directed by Chandan Arora, the movie is based on true life incidents. Surya is a poor boy who is introduced to the game of carrom and even wins a championship at the age of 12. But this is not enough for the boy to satisfy his passion for the game and he moves into dangerous territory. The movie has Siddharth of 'Rang De Basanti' fame in the lead role.
5. The Great Gambler (1979) – The movie has Amitabh Bachchan as Jai who is an expert gambler who has never lost a game. But then Jai get noticed by the wrong people, who try to hire him to win large amount of money from people to use it to their advantage. The movie also has Zeenat Aman as a bar dancer and has been directed by Shakti Samanta.