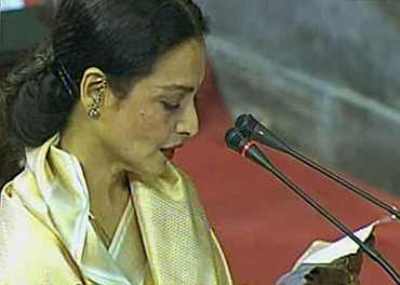 Bollywood's yesteryear actress Rekha, on May 15, 2012 took oath as the member of the upper House Rajya Sabha. The actress was seen clad in a golden sari with matching high heels and received a warm welcome.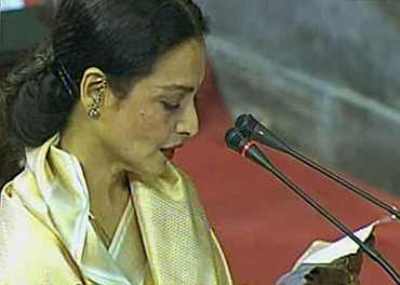 The 57 year old was received with open arms, as she walked in to take her oath. Many of the members of the assembly received the actress by greeting her and talking to her.
Rekha was nominated by the president in to the Rajya Sabha and was greeted in the house with thumping of desks. The actress was welcomed by Chairman M. Hamid Ansari, while Prime Minister Manmohan Singh and Arun Jaitley, the leader of opposition greeted her after she sign in the register of members.
HK Dua, the senior journalist and nominated member was seen explaining the proceedings to the actress and she was also seen interacting with Javed Akhtar, the noted lyricist, who is also seated in the same row. Rekha's contemporary, Jaya Bachchan was seated in a new place in a different row. Reports say that she got her seat shifted to a different place so that she could not be seen in the same frame as Rekha.