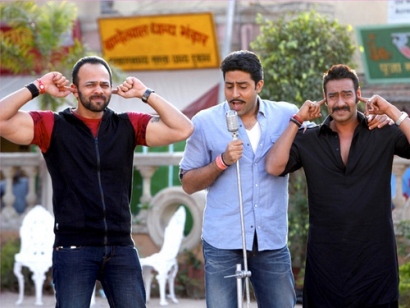 Film maker Rohit Shetty has finally come up with his much awaited movie 'Bol Bachchan', which is a remake of the classic comedy flick 'Golmaal' which had the veteran actor Amol Palekar. The movie released on July 6, 2012 stars Abhishek Bachchan in double role, Ajay Devgn , Prachi Desai and Asin and Archana Puransingh.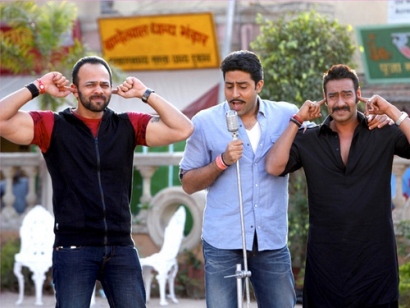 Abhishek in the movie plays the double role and deals with Ajay who plays the role of Prithviraj Raghuvanshi, who is known for his hilarious English lines. The basic story is that of the 1979 'Golmaal', in which Abhishek tries hard to impress Raghuvanshi so that he could win his love played by Prachi.
The only difference is, the 'Golmaal' was funny without trying too hard, on the other hand 'Bol Bachchan' has underestimated the intelligence of the audience. Thankfully Ajay and Bachchan have taken their characters with ease and have done what they could do the best.
Asin needs to work more on her looks as well as acting while Desai is calm throughout the movie. But still there are indeed some very funny scenes which includes Ajay's obsession with English speaking. Overall, 'Bol Bachchan' is based on several inspirations from Bollywood and is just good enough for the audience looking for some entertainment this monsoon with some hot popcorn.