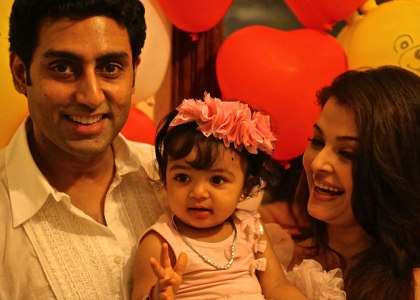 A year after the birth of the newest addition to the Bachchan family, superstar Amitabh Bachchan, the proud grandfather tweeted the first official pictures of Aaradhya Bachchan. On the occasion of her first birthday, the 'Sholay' actor tweeted a picture of 'Beti B' with her parents Abhishek Bachchan and Aishwarya Rai with balloons and streamers at the background. The Bachchan family kept the birthday celebration private and a family affair.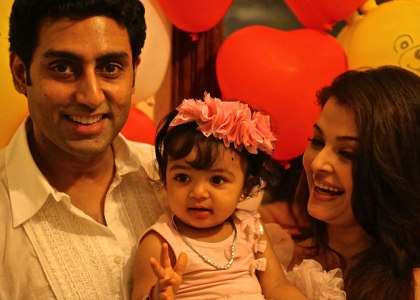 Amitabh Tweeted, "With her parents on her 1st … love to all". Earlier, the 'Mohabbatein' star had also tweeted, "Aaradhya's 1st birthday !! Just family and the silence peace and quiet after many hectic evenings .. your blessings and love !!"
Apart from the family picture, the fans of the Bachchans were also treated with another picture of the little one with her father. Media reports said that Aaradhya received a BMW Mini Cooper as a birthday gift and the entire family was spotted taking a ride in the red car.
On November 16, 2011, Aishwarya Rai had given birth to Aaradhya at a hospital in Mumbai. Ever since, the actress and her child were protected from the glare of the media and this was the first time the family has officially unveiled a picture of the baby.
Photo Credits: NDTV