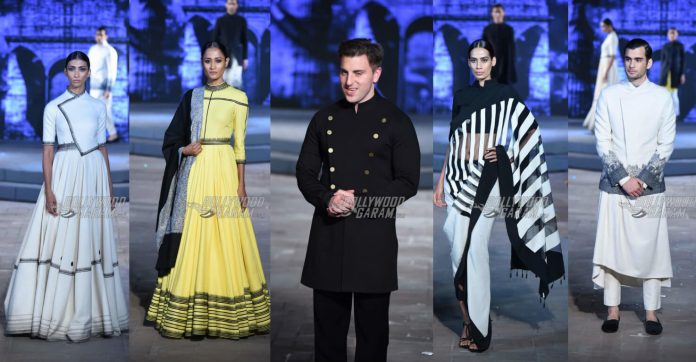 Fashion designer duo Shantanu and Nikhil showcase a mesmerizing collection, 'The Atelier Experience' for Airbnb's Trips launch
Airbnb has launched their revolutionary platform, Trips in yet another Asian City and this time they made a big deal about it!
From inviting Sonam Kapoor to attend Airbnb's Trips launch press conference to having Mandira Bedi model for their property in New Delhi and collaborating with Shantanu and Nikhil – they have left no stone un-turned.
New Delhi based designers Shantanu and Nikhil have collaborated with Airbnb's Trips to provide it's users the ultimate experience of contemporary Indian Fashion. The duo is a part of the 15 experiences currently being offered by Trips to users in New Delhi. 'Journey of Couture', is an experience which gives insights into their studio and a chance to interact with traditional artisans.
It's definitely a unique experience to be able to see what goes on behind the scenes, into creating exquisite fashion with a touch of traditional cloths and crafts.
In an effort to promote 'Journey of Couture' and the launch of Trips in India, the designer duo presented their collection – 'The Atelier Experience' at Airbnb's launch in New Delhi on March 19, 2017.
Feast your eyes on the complete collection by Shantanu and Nikhil for Airbnb –
'The Atelier Experience' by Shantanu and Nikhil was a contemporary take on traditional Indian wear. Inspired by minimalistic designs, the pattersn were limited to geometrical and simple styles which the entire collection consisted of only blacks, whites and yellows.
A combination of the three colors with traditional Indian embroidery on linens, tussar silk and free flowing cotton was a visual treat.
And here's the star of the night – Airbnb Co-Founder and CEO, Brian Chesky! He walked the ramp as a showstopper (of sorts), for Shantanu and Nikhil's collection, The Atelier Experience.
That's the famous designer duo, thanking the audience for their appreciation as they conclude the show.
Stay tuned for more updates on the latest events around town exclusively on Bollywood Garam!
Image Credits – Viral Bhayani