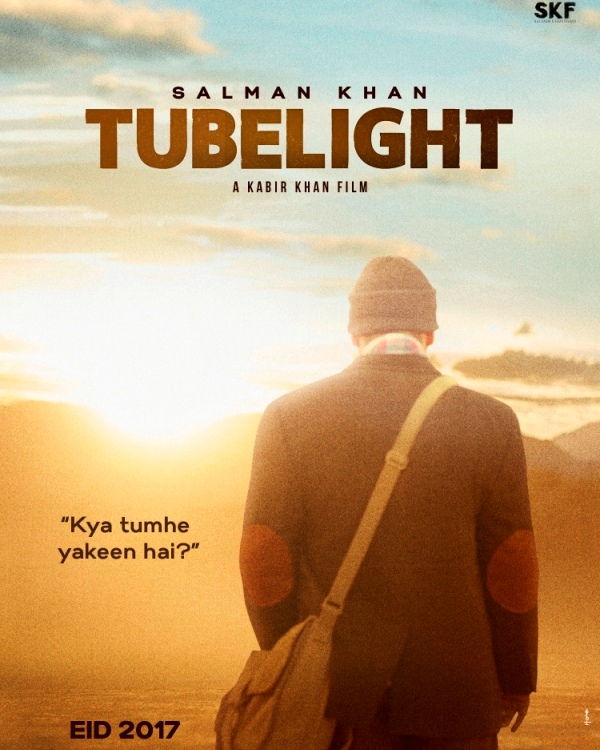 Salman Khan takes on a whole new character for Tubelight
Superstar Salman Khan is all about teasing fans these days. Yesterday, the first tearer trailer, that lasted mere seconds, was released for his upcoming film, Tubelight. Today, he shared the first official Tubelight poster through his social media. And fans are, as you can imagine, absolutely ecstatic.
The poster itself shows what appears to be the back of Salman. He's got a beanie on, a jacket and a bag. And it looks like he's traveling through a desert, mountainous terrain. The poster itself reads: "Kya tumhe yakeen hai?" And the superstar captioned the image with: "Agar tumhe yakeen hai then 'Back his back'."
We really don't know exactly what the film is about. What we do know is that Salman Khan roped in children from his building, Galaxy Apartments, to help with the teaser trailer. Tubelight is a film with a storyline set during the 1960s around the time of the Sino-India war. The flick also stars Sohail Khan and the late legend, Om Puri. Chinese actress Zhu Zhu is making her Bollywood debut in the film as well. The film is directed by Kabir Khan and is looking for a release around Eid – June 23, 2017. The official Tubelight trailer is set to hit the internet within the next few days.
Salman Khan is also working on another film that will release just in time for the summer holidays. Hanuman Da Damdaar is an animated film that portrays the mighty Hanuman more like a superhero character. Of course, the only voice fit to give life to that character is the Bajrangi Bhaijaan himself! In what we've seen of the trailer, Salman Khan will be more powerful, entertaining and modern as compared to his other superhero counterparts.
Prepare yourselves, Salman Khan fans, for the ultimate Salman fest that is going to take place within the next couple of months. Whether you want to catch him in his animated avatar, or see him in an intense love story in Tubelight, it's happening! Are you as excited as we are?
Kya tumhe yakeen hai ? Agar tumhe yakeen hai then 'Back his Back' . pic.twitter.com/XxQCrOFu6U

— Salman Khan (@BeingSalmanKhan) April 19, 2017
Photo credits – Salman Khan's official Twitter account