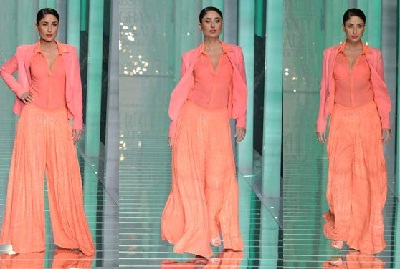 Kareena Kapoor Khan has always been known for her style quotient and the actress recently turned heads at the Lakme Fashion Week (LFW) in Mumbai. The stylish celebrity walked the ramp for designer Namrata Joshipura, which was a surprise for a few people, as she normally chooses to showcase her best friend Manish Malhotra's collections.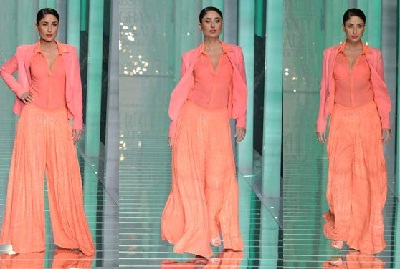 Photo Credit: Cloud Front
Joshipura was making her ramp debut at the LFW and had Kareena wearing a peach ensemble consisting of a high-waist sequined peach skirt, a buttoned down peach shirt and a neon pink blazer, which was put on over the outfit. The event also marked the Spring/Summer edition of the LFW.
Saif Ali Khan was missing from the show and is normally seen in the front row when Kareena is walking the ramp. His better half said that the 'Race 2' star has no option, but to see Kareena in every color at home. The 'Heroine' star said that she was not missing Saif and that he needed to work.
The Bollywood bombshell dropped a surprise for her fans when she said that she loved pajamas and a t-shirt more than anything and that she would walk the ramp in those clothes if she had a chance.