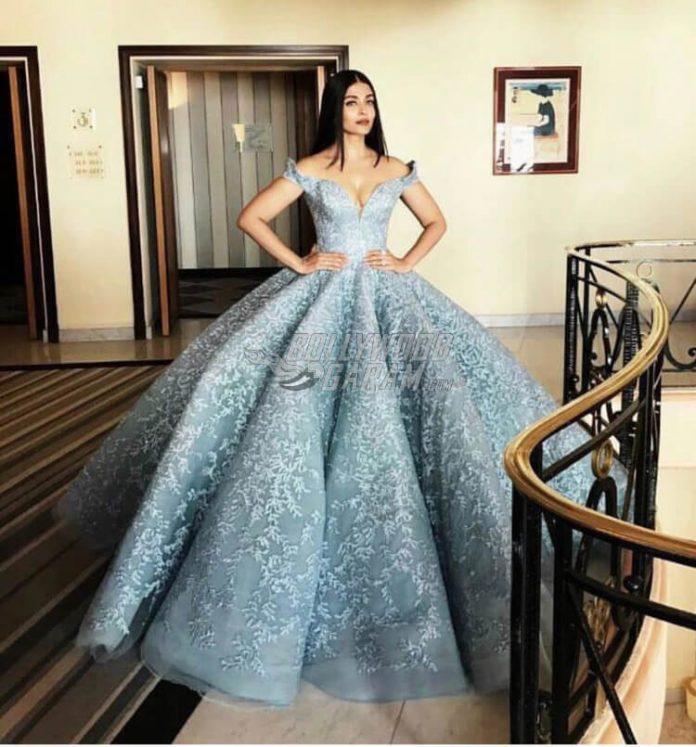 See all the looks from Aishwarya Rai's first day at Cannes Film Festival 2017 on Day 3! (with red carpet photos)
Aishwarya Rai Bachchan landed at Cannes yesterday, May 18 with daughter Aaradhya and the duo received a grand reception by Team L'Oreal Paris. See photos 
Aishwarya is slated to walk down the red carpet along with L'Oreal Paris ambassador Eva Longoria today, May 19 and will present Devdas on May 20 as a part of L'Oreal Paris Open Air Cinema.
List of all the Indian films being screened at Cannes Film Festival 2017
Ash kicked off her first day a Cannes 2017 is style as she took Aaradhya for a mini tour de France for which she sported a Versace blazer and a Dior handbag. While little Aaradhya wore a pretty floral print dress. After the trip, she headed for press interactions in a stunning green Yulina Yanina gown with a plunging neckline and ruled the beach! Post the press interaction, she did a stunning photoshoot in a floral embroidered beige golden Mark Bumgarner gown, paired with yellow-golden heel. Aishwarya even caught up with long time friend, Eva Longoria and the two are kicking up a storm at Cannes.
Photos: Aishwarya and Aaradhya depart from Mumbai to attend Cannes 2017 
But Aishwarya's Cannes 2017 red carpet look was a complete winner! For her first red carpet appearance at Cannes 2017, Aishwarya chose a breahtaking sky blue embroidered gown by Michael Cinco! She looked gorgeous with minimal make up and accessories – letting her fairytale gown do all the talking. She attended the premiere of Okja at the film festival on May 19, 2017.
Breaking her rocky dry spell at the Cannes red carpet – Ash has definitely upped our hopes and we are eagerly looking forward to her look at Cannes film Festival 2017 on Day 4.
See all of Aishwarya Rai Bachchan's looks from her first day at Cannes Film Festival 2017 –
# Fourth Look of Aishwarya Rai at Cannes Film Festival 2017, May 19 – Red Carpet!
Aishwarya even hung out with Rihanna and the two goddesses gave us an opportunity to cherish this prized picture –
# Third Look of Aishwarya Rai at Cannes Film Festival 2017, May 19
Sitting pretty and living the #LifeAtCannes ? #CannesQueen #AishwaryaAtCannes #CannesFilmFestival pic.twitter.com/oTeNrIklQV

— L'Oréal Paris India (@LOrealParisIn) May 19, 2017
When at Cannes, pose and pout ? #LifeAtCannes #AishwaryaAtCannes #CannesQueen pic.twitter.com/er7dGHvr9W

— L'Oréal Paris India (@LOrealParisIn) May 19, 2017
#AishwaryaRaiBachchan twirls to perfection in this gorgeous gown by #MarkBumgarner pic.twitter.com/1LI0waWApH

— L'Oréal Paris India (@LOrealParisIn) May 19, 2017
Reunited with our #Lorealista @EvaLongoria ?? #LifeAtCannes #AishwaryaAtCannes pic.twitter.com/0NKLEWJoWV

— L'Oréal Paris India (@LOrealParisIn) May 19, 2017
Sneak peak into #AishwaryaRaiBachchan's #LifeAtCannes pic.twitter.com/eOcDoXRPh7

— L'Oréal Paris India (@LOrealParisIn) May 19, 2017
# Second look of Aishwarya Rai at Cannes Film Festival 2017, May 19
Redefining beauty and grace for the sixteenth time! #AishwaryaAtCannes #LifeAtCannes #CannesFilmFestival #Cannes2017 #Cannes70 ?? pic.twitter.com/4N5PuUwyK8

— L'Oréal Paris India (@LOrealParisIn) May 19, 2017
The goddess of beauty is all set to live her #LifeAtCannes!
Lips ?: Tint Caresse in Rose Blossom blended with Orchid Blossom pic.twitter.com/3HVGbzlsno

— L'Oréal Paris India (@LOrealParisIn) May 19, 2017
For you guys! #AishwaryaAtCannes pic.twitter.com/ft4rEGBG95

— Aishwarya At Cannes (@skv1993) May 19, 2017
Sun, sand and our queen in Cannes! What more can we ask for ? #AishwaryaRaiBachchan #LifeAtCannes #CannesQueen #AishwaryaAtCannes pic.twitter.com/yWDL1GdROH

— L'Oréal Paris India (@LOrealParisIn) May 19, 2017
When you are as beautiful as the place you are at! ❤️ #LifeAtCannes #AishwaryaAtCannes #CannesFilmFestival #Cannes2017 pic.twitter.com/Fd5h9YHpqS

— L'Oréal Paris India (@LOrealParisIn) May 19, 2017
Spellbound! Isn't she mesmerizing? #AishwaryaRaiBachchan #LifeAtCannes #CannesQueen pic.twitter.com/EZ0LADaNQz

— L'Oréal Paris India (@LOrealParisIn) May 19, 2017
Sungazing with #AishwaryaRaiBachchan #LifeAtCannes #CannesQueen pic.twitter.com/SHKEwjpcJS

— L'Oréal Paris India (@LOrealParisIn) May 19, 2017
#First Look of Aishwarya Rai with Aaradhya at Cannes Film Festival 2017, May 19
See Deepika Padukone's entire Cannes Film Festival 2017 journey
Photo credits – Viral Bhayani