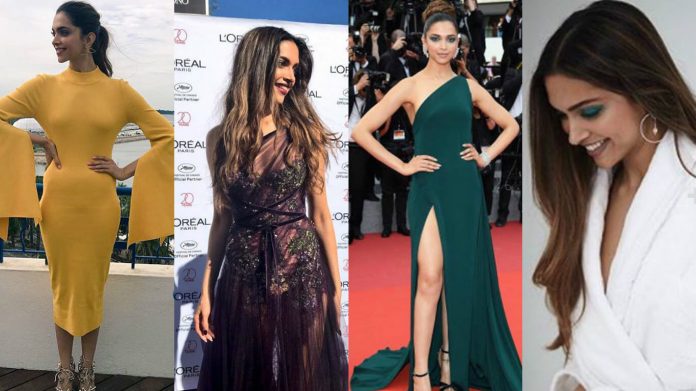 As an excited Deepika Padukone debuts at Cannes Film Festival 2017 on May 17 (with latest updates)
Deepika Padukone was roped in as the Global Brand Ambassador of L'Oreal Paris earlier this year and since then, Deepika has been all excited about walking the red carpet at Cannes Film Festival 2017 as a L'Oreal Paris Ambassador! Recently in an interview with news agency IANS she said,"I am very, very excited. I am looking forward to the entire experience of being there and taking it all in." 
Deepika started her Cannes journey as she left Mumbai International Airport on May 14, 2017. The Piku actress looked ravishing at the airport in a Alberta Ferretti maxi dress paired with a Maje Officiel leather jacket and Loubouttins boots. She boarded a flight to London, and they travelled on to Nice, from where she travelled to the French Riviera today, for attending the coveted festival. As she arrived at the destination, she was snapped in a mustard colored top paired with distressed, holding an overcoat in her hand. Deepika completed the look with tan boots and left her long tresses open.
Cannes Film Festival 2017 will be held from May 17 – 28 and Deepika is expected to walk the ramp on May 17 and 20 as a L'Oreal Beauty Ambassador. She will be joining Sonam Kapoor, Aishwarya Rai, Julianne Moore and Eva Longoria at the red carpet. Deepika has been eagerly looking forward to the festival after making a splash at the MET Gala 2017, the Golden Globe Awards 2017 and MTV EMAs 2017. The actress has kept all her fans updated by sharing photos of what she's eating and where she's at through her Instagram account.
Take a peek, starting from Deepika's Cannes essentials while leaving Mumbai, to her latest looks at Cannes day 1, red carpet and day 2 –
1. Deepika leaving Mumbai airport for attending Cannes Film festival 2017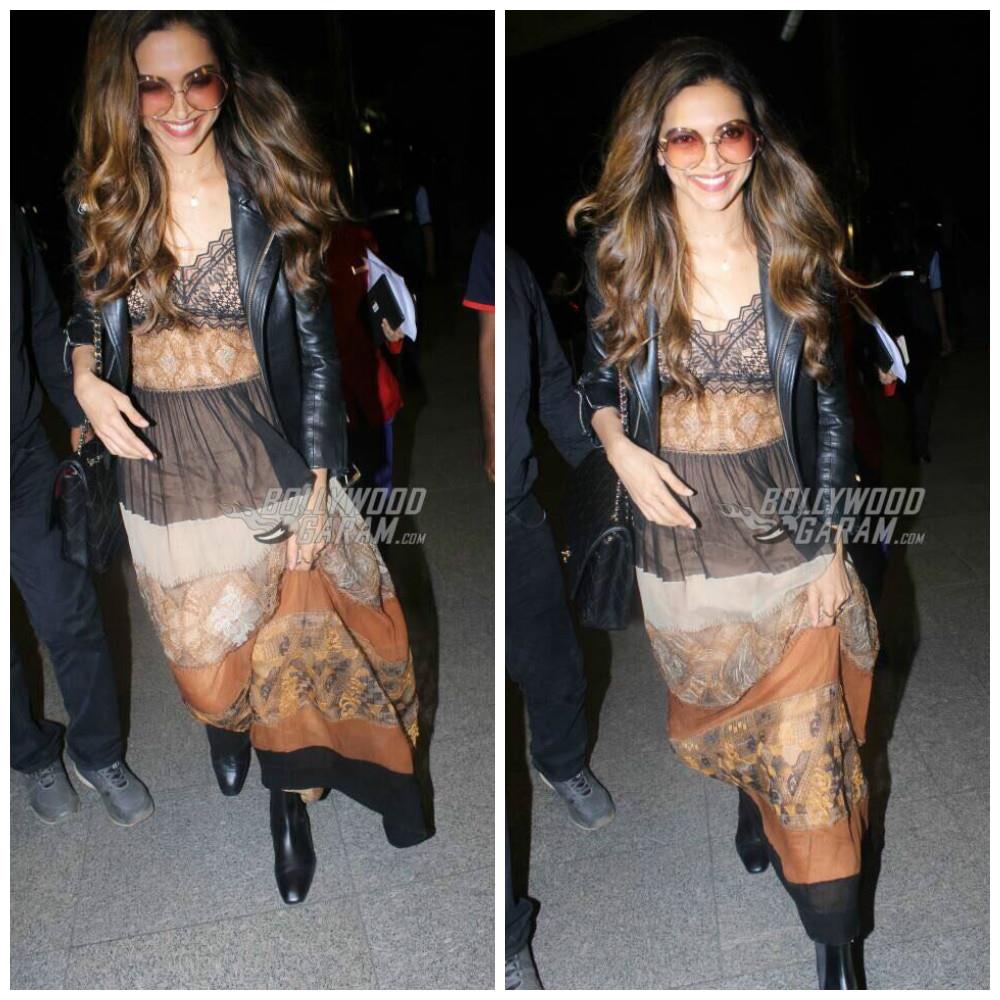 2. Deepika Padukone arrives at Cannes to attend the festival
And that's the latest picture of Deepika Padukone as she arrives at French Riviera on May 16, 2017!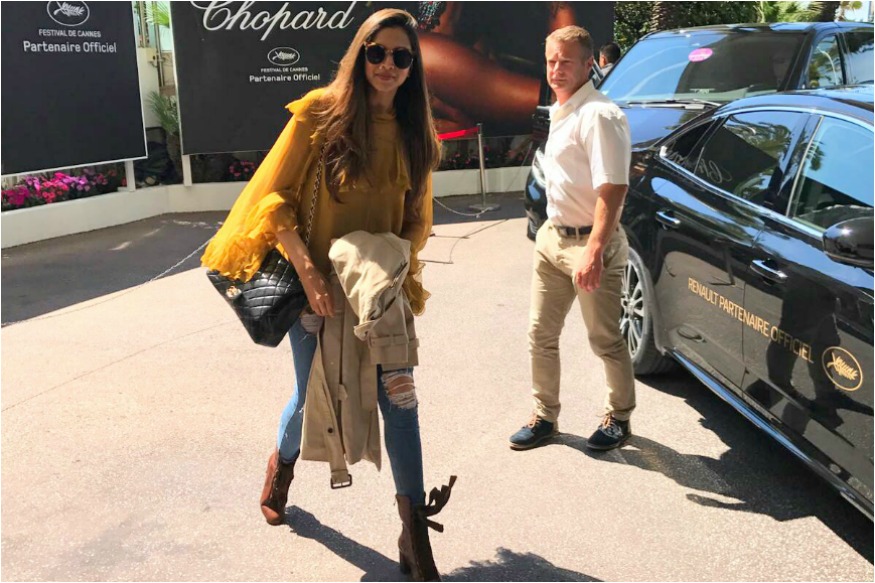 3. Deepika's first look at Cannes Film Festival 2017 Day 1 – red floral maxi dress
Photos from Deepika's make-up session at Cannes 2017, Day 1
4. Deepika's second look from Cannes 2017 Day 1 press interactions – pink satin dress
She slayed in a slinky satin cut out dress with a messy hair bun, showing off her RK tattoo.
5. Deepika Padukone walks the Cannes Film Festival 2017 red carpet at L'Oreal Paris ambassador on Day 1
This one's the highlight of Deepika Padukone's Cannes 2017 journey so far – Her first red carpet appearance at Cannes 2017 on Day 1! She made hearts stop with her sheer wine colored Marchesa Fall 2017 gown and flowing tresses –
See entire gallery from Deepika Padukone's first red carpet look at Cannes Film Festival 2017
6. Deepika Padukone's first look at Cannes Film Festival 2017 Day 2 for press interactions – Sunny-yellow dress
Mastani started her second day at the French Riviera looking brighter than the sun in a sublime yet dramatic sunny-yellow dress with wing-sleeves. She completed her look with sleek minimal cut-out earrings and studded open-toe stilettos.
Gallery featuring Deepika Padukone in this gorgeous yellow dress at Cannes 2017
7. Deepika's second look from Cannes Film Festival 2017 Day 2
Deepika's second look for her second and final day at Cannes 2017 comprises of a short pink dress paired with studded heels! We are completely is love with this look too and can't wait to see her red carpet look for today, May 18. She was spotted hanging out with fellow L'Oreal Paris brand ambassador Elle Fanning at the beach today afternoon, have a look –
Did you notice her multiple ear studs? Take a closer look –
See entire gallery featuring Deepika's second look on Day 2 of Cannes 2017
8. Deepika's stunning teal slit gown at Cannes 2017 red carpet on Day 2!
If you though Deepika's Marchesa Fall 2017 sheer purple gown was killer – then this teal Brandon Maxwell gown with a thigh high slit is killer x 100! She marked her final Cannes 2017 red carpet appearance with a memorable walk and elegant looks. Check it out –
See all the looks from Deepika's final Cannes 2017 red carpet appearance
Stay tuned for live updates on Cannes Film Festival 2017 exclusively on Bollywood Garam.
Photo credits – Viral Bhayani