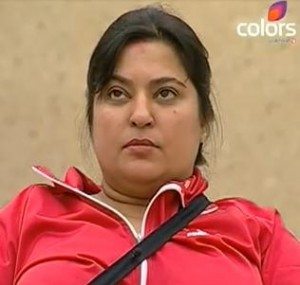 The Bigg Boss 4 has opened its voting for the wild card entrant and the names in the league are Sakshi Pradhan, Dolly Bindra, Aanchal Kumar and Rahul Bhatt. And if the rumours are to be believed then it will be Dolly Bindra who would be re-entering the house.
The reason is quite simple; she is the one who was successful in raising the TRP of the Indian version of UK reality show Big Brother, when she was in the show. But her loud behaviour was not acceptable to the other house members as well as the Bigg Boss himself. So she had to leave the house last week.
Having a look at the TRP statistics will clarify the impact of the actress on the show. Before Bindra entered the house the TRP was 2.80 and after that it fluctuated between 3.52, 3.23 and 3.61.
The other contestants did not provide that level of entertainment level which would help them get maximum footage. Aanchal Kumar seemed to be the most uncomfortable contender among the lot. She looked more than happy to leave the house on the day of her eviction.
Rahul Bhatt was a silent observer and Sakshi Pradhan's tactics did not work here, although she is the winner of another controversial reality show 'Splittsvilla' aired on MTV.
Source: Rediff