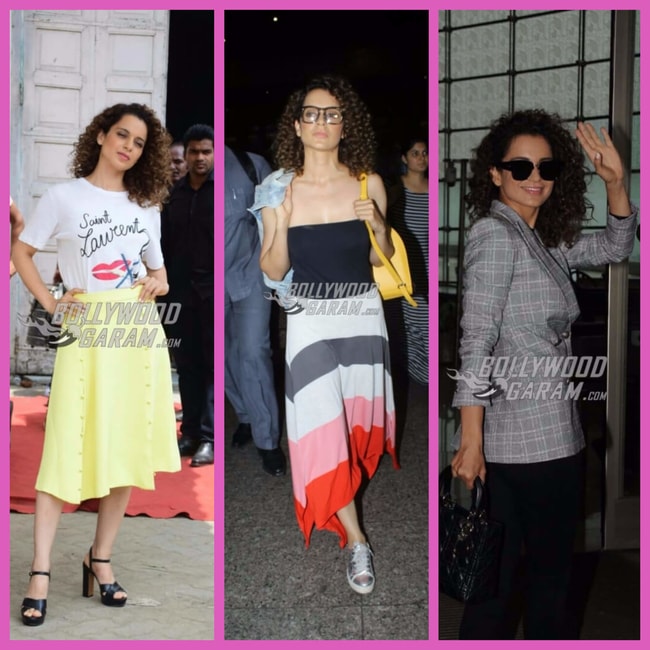 One of the highest-paid actresses of Bollywood, Kangana Ranaut had been busy over the past few days and couple of months for the promotions of her big release, Hansal Mehta's Simran that hit the theatres on September 15, 2017.
Kangana Ranaut is known to take up fierce and 'different' roles where she has dominated the movie all through and has been quite the protagonist. There are several examples to quote – Queen, Revolver Rani, Tanu Weds Manu, Tanu Weds Manu Returns, Rajjo and even Rangoon where her bold avatar was appreciated. In Simran too, she played the role of a Gujarati woman living and working in the US who is a kleptomaniac and turns out to be a bank robber from a simple housekeeping staff at a hotel. The story is based on this woman's journey, inspired by real-life events and a true story.
Albeit several controversies surrounded Kangana with allegations, apology demands, legal notices and shocking revelations of her past and that of many Bollywood biggies plus her debate around nepotism with filmmaker Karan Johar, Kangana always put her best foot forward in style for all of the promotional events, summits and even at the airport when she was en route for her promotional tours.
Let's have a look at what she wore at which occasion when she was on a promotional spree for Simran!
At the trailer launch
The National-award-winning actress can manage to look as young as she wants and when she wants, just with the right kind of attire – she chose to wear a striped t-shirt teamed up with a white skirt (quite like a schoolgirl!) and heels for a comfortable girl-next-door look at the August 8, 2017 trailer launch event.
Smart and graceful during promotional events
A peach, white and black striped dress with an embroidered neckline and black ankle-length booties are what Kangana opted for when she posed and smiled for the shutterbugs at a promotional event in Mumbai for Simran.
Casual yet feminine – a lovely combo there!
The best thing about Kangana Ranaut's style quotient is her experimental nature and how it represents the different facets of her personality. While busy promoting Simran at her work schedule at Mehboob studio, Kangana managed to look pretty too in a casual white graphic t-shirt and a yellow skirt with black heels!
The sassy diva at the airport look!
Kangana is right there when it comes to being the classy, smart and stylish diva for her travel schedules! Snapped in an all-black ensemble with a grey and white striped blazer, the Rangoon actress made quite the style splash at Mumbai airport on September 8, 2017, a week prior to Simran's release. The casual chic look with the printed black T-shirt, black jeggings and pumps with the elegant black handbag when leaving for Ahmedabad for Simran's promotional tour, seems to make Kangana look like quite the badass that she really is.
Pretty in floral prints!
She can be as sassy in a smart suit as in a beautiful floral-printed dress (don't miss the dogs printed there too) with a tiara and a rose put to one end of her hair tied in a bun. Some fashion goals there as she promoted Simran posing, smiling and waving for the cameras in a confident, feminine style.
Two days left for her movie release and Kangana on the promotional tour!
An off-shoulder, striped, casual and colorful dress with dazzling sneakers, the bespectacled Kangana looked every bit the strong, opinionated woman that she is, loosely carrying a denim jacket over her shoulder with a yellow, trendy satchel bag on the other one.
Here's a promotional video of the Queen actress for Simran with AIB where she slams Bollywood's idea of women:
At the Jagran Cinema Summit!
At the dias speaking about the film business and promoting her film post release on September 15, 2017 night, Kangana was seen in a stunning off-shoulder printed dress seemingly made of brocade fabric with black and blue pumps.
The promotional events, the controversies and the hectic work and travel schedules aside, Kangana's film did well and reportedly raked in about 10.65 crores within a few days of its release.
Photo Credits: Viral Bhayani