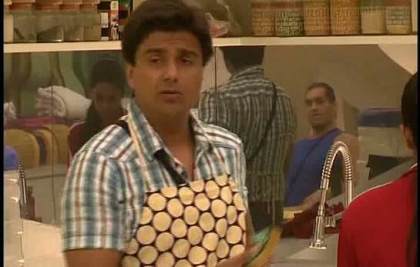 For yet another time, Bigg Boss 4 has seen an incredible eviction with Samir Soni being ousted of the House this week. Fans can not believe the results as Dolly Bindra was chosen over the popular actor. Earlier Manoj Tiwari's eviction from the reality show had raised many eyebrows.
Samir Soni was among the bookies' favorite contestant for winning the show. Critics believe that this has been done by the channel o purpose as Dolly Bindra's presence in the show is sure to garner much more TRP's. Samir, in fact, has himself accused the channel of being partial towards the loud actress.
Incidentally, Manoj Tiwari being evicted when pitted against Ashmit Patel had raised similar doubts. The Bhojpuri superstar was so surprised on losing out to Patel despite being a much more popular that he went on record to say that the channel deliberately retained Ashmit due to his sizzling chemistry with fellow housemate Veena Malik.
Ashmit's publicist, Dale Bhagwagar, though credited his Bollywood and Gujarati connections retention of the actor in Bigg Boss.