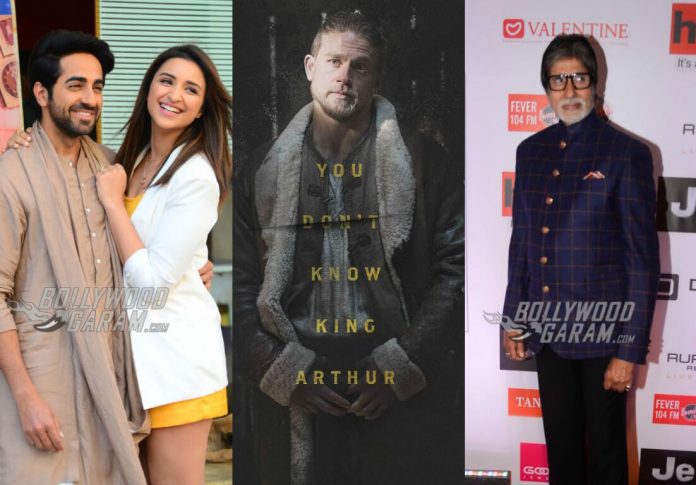 Three Bollywood and three Hollywood Movies are scheduled to release in India on May 12, 2017
2017 began with Shahrukh Khan and Hrithik Roshan clashing at the box office with Raees and Kaabil respectively. But the next big clash is not just a clash, it is a war between Bollywood and Hollywood movies. Six blockbuster movies are scheduled to release on May 12, 2017. Bollywood films include Sarkar 3, Meri Pyaari Bindu and Muzaffarnagar 2013. While the Hollywood film are Alien: Covenant, King Arthur and Snatched.
Here are all the Bollywood movies releasing on May 12, 2017 –
Sarkar 3
Amitabh Bachchan starrer, Sarkar 3 is a political drama series. It stars Yami Gautam as an avenger, Amit Sadh as Sarkar's volatile grandson, Ronit Roy, Jackie Shroff, Manoj Bajpayee and Supriya Pathak in key roles. Watch the official Sarkar 3 trailer right here.
Meri Pyaari Bindu
Yash Raj Films' romantic comedy, Meri Pyaari Bindu stars, Ayushmaan Khurana and Parineeti Chopra. The actress had made a comeback in Bollywood after one and a half years as Bindu. Written by Suprotim Sengupta, the movie revives some old classic songs and has some new songs too composed by Sachin – Jigar. It is a movie about Bindu fulfilling her dream of becoming a singer and the love story between childhood lovers, Bindu and Abhi. The trailer released in five parts has already aroused curiosity amongst the audience. Watch all five Meri Pyaari Bindu trailers – Samosa aur Chutney, Gabbar aur Samba, Kalkatte Ki Madonna, Mix Tape and Bindu vs. Maa.
Muzaffarnagar 2013
Muzaffarnagar 2013 is a serious movie which is trying to capture the flow of events that led to the riots in Muzaffarnagar in 2013. It revolves around a love story with a backdrop of the communal riots.  It stars Dev Sharma, Anil George and Mursaleen Qureshi in the lead roles. The film is directed by Harish Kumar. Watch the official Muzaffarnagar 2013 trailer.
Here are all the Hollywood movies releasing on May 12, 2017 –
King Arthur
Warner Brother Pictures' King Arthur is set to release on May 12, 2017 in India. Directed by Guy Ritchie and written by Ritchie, the movie is an adventurous one. It stars Charlie Hunnam as the lead character, King Arthur. It's is based on the legend of King Arthur who is born with royal blood but is denied his birth right and grows up in the back alleys of the city. But everything changes when he pulls the sword out of the stone and is confronted with his true identity – whether he likes it or not. It also stars Astrid Berges, Djimon Hounou, Aidan Gillen, Jude Law and Eric Bana in supporting roles. Watch King Arthur's official movie trailer.
Alien: Covenant
Alien: Covenant is an American science fiction horror film that will also release in India on May 12,2017. Starring Michael Fassbender, Katherine Waterson, Billy Crudup, Danny McBride and Demian Bichir, the movie is the prequel to the 2012 thriller film Prometheus. Alien: Covenant is the sixth installment of the Alien film series and revolves around the crew of a ship that lands on an uncharted plane. See official trailer of Alien: Covenant.
Snatched
Snatched is an American action comedy written by Katie Dippold, Amy Schumer and Kim Caramele and directed by Jonathon Levine. The film stars Schumer and Goldie Hawn in the lead. The movie revolves around a sudden adventure that comes in a way of a mother-daughter's vacation. One of the writers, Dippold revealed that it is inspired by her relationship with her mother. Check out the official movie trailer of Snatched.
With such a diverse range of films set to release on the same day, let's see which one impresses the audience the most. Summer 2017 is going to be an entertaining one for movie lovers in India. The month is all set to raise the heat with some huge releases.
Photo credits – Viral Bhayani / Instagram